November is American Diabetes Month, a time to raise awareness about diabetes and generate support for those affected by the disease.
Learn the Symptoms
The following symptoms of diabetes are typical. However, some people with diabetes have symptoms so mild that they go unnoticed.
Urinating often
Feeling very thirsty
Feeling very hungry—even though you are eating
Extreme fatigue
Blurry vision
Cuts/bruises that are slow to heal
Weight loss—even though you are eating more (type 1)
Tingling, pain, or numbness in the hands/feet (type 2)
Early detection and treatment of diabetes can decrease the risk of developing the complications of diabetes.
Make an Appointment
---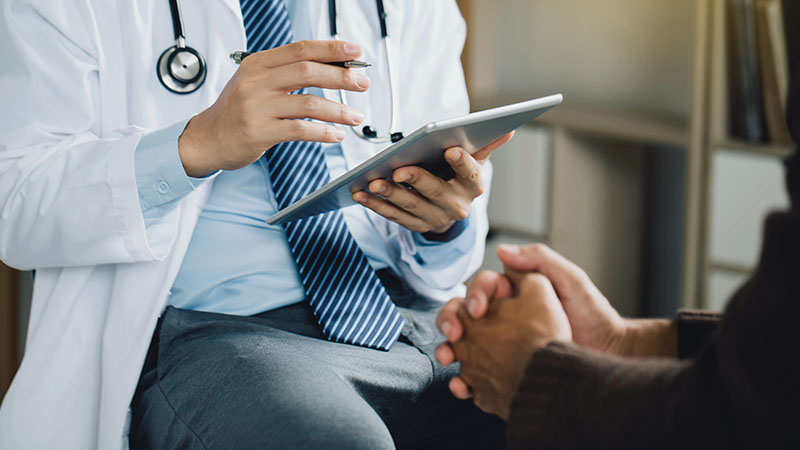 Understanding Diabetes
From symptoms and treatment, to management and medication—arm yourself with the knowledge to live well with diabetes.
---
Additional Resources
Diabetes Complications
Diabetes can affect almost every part of your body, including your brain, heart, skin, kidneys, nerves, and ears. Learn how to prevent, delay, or treat these complications through healthy lifestyle changes.
More About Diabetes
Get to know the facts vs. myths about living with diabetes. Plus, find out how genetics play a factor in developing diabetes.
Devices & Technology
Diabetes devices and technology can be lifesaving—but which is right for you? Discover the benefits and drawbacks of continuous glucose monitors, blood glucose meters, insulin pumps, and more to find out what's available to help with your diabetes management needs.
Vaccinations
People with diabetes are more likely to get sick from illnesses like the flu. Stay on top of the vaccines recommended for people with diabetes to help you stay healthy.
Common Terms
Do you ever get lost when talking to your health care team because you don't know what some of their words mean? To help you get the most out of your visits, here's a list of commonly used terms that are used when talking about diabetes.
Diabetes Statistics
Get to know diabetes by the numbers, including stats on prevalence, complications, gender, race, and more.